Before the start, I'd want to share some thoughts behind building the Bhari theme. In January 2017, I have started contributing WordPress by reviewing themes from https://themes.trac.wordpress.org/report. I have reviewed all the possible themes in my available time. Check out my reviewed themes.
Why to review the WordPress theme?
IMO, Answer is simple. To get involved in a BIG open source project and to improve the knowledge of Theme development.
In a review process, I have learned a lot of new stuff. You can also start reviewing the WordPress theme to improve your coding standards. To get started please read the article become a reviewer.
Okay. Let's back to the track.
Finally, Bhari Theme Approved!
In 5 Feb 2017, I have started developing the WordPress Bhari theme. I have used  _s theme while building my first theme. Here is the first commit on Github .
In a development, I have spent almost 1 month and finally on 30 March 2017, my theme Bhari was live on wp.org (approved by Acosmin). I want to say thanks for the guys @pratikchaskar19, @_nikchavan and @swapnildhanrale  who support me.
What after theme Approve?
After Bhari theme approve I have created a website https://bharidoc.wordpress.com/ for documenting the theme. I have kept the development on Bhari on Github repository. And tried to provide all the possible information to keep this open source project up to date.
I have created all the possible things for Bhari theme as blow:
Here I have highlighted the Translation Ready, Because I want to just share the Journey behind translating the Bhari theme.
And, Journy Biguns..
WordPress uses the plugin GlotPress for translations (Internally It use the gettext). WordPress provides a website https://translate.wordpress.org/ to translate any WordPress Theme/Plugin or Core Versions too.
Below is the list of categories:
Screenshot for reference: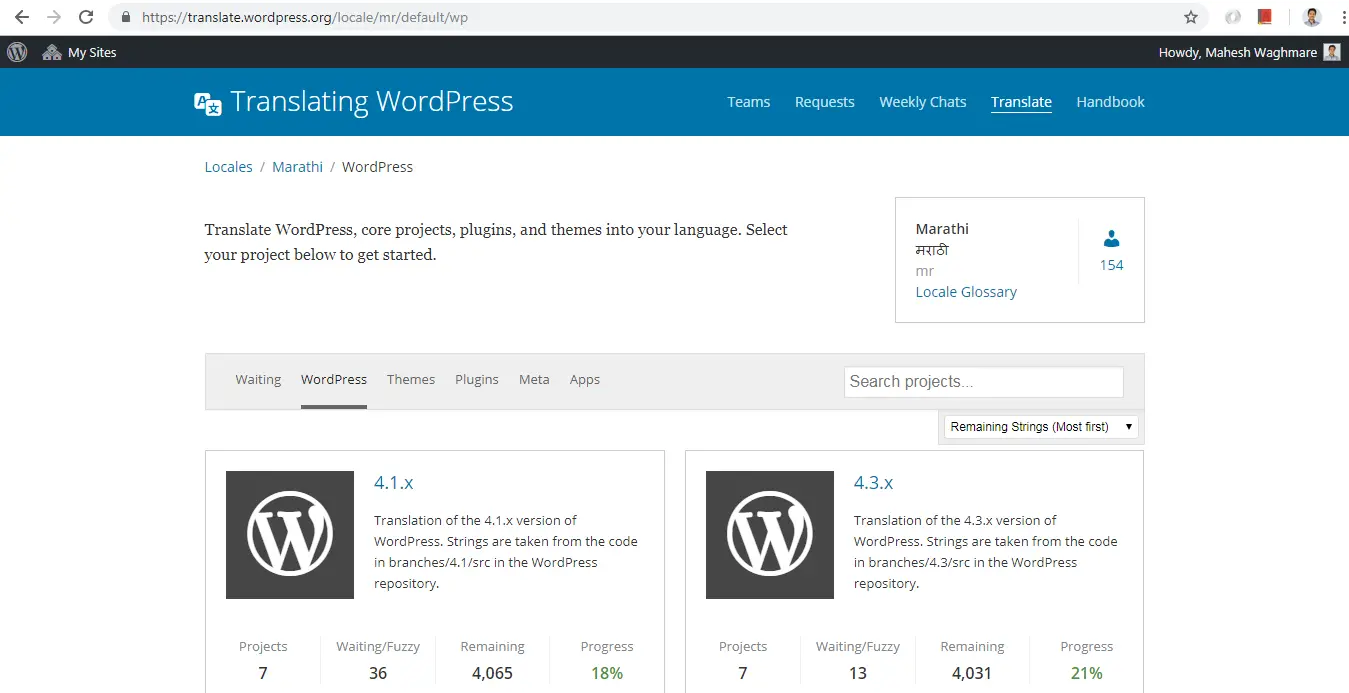 URL: https://translate.wordpress.org/locale/mr/default/wpFrom these categories, We can choose any project. In this article, I'm sharing you How I translated the Bhari theme. So, I have chosen category Themes and selected Bhari like below screenshot: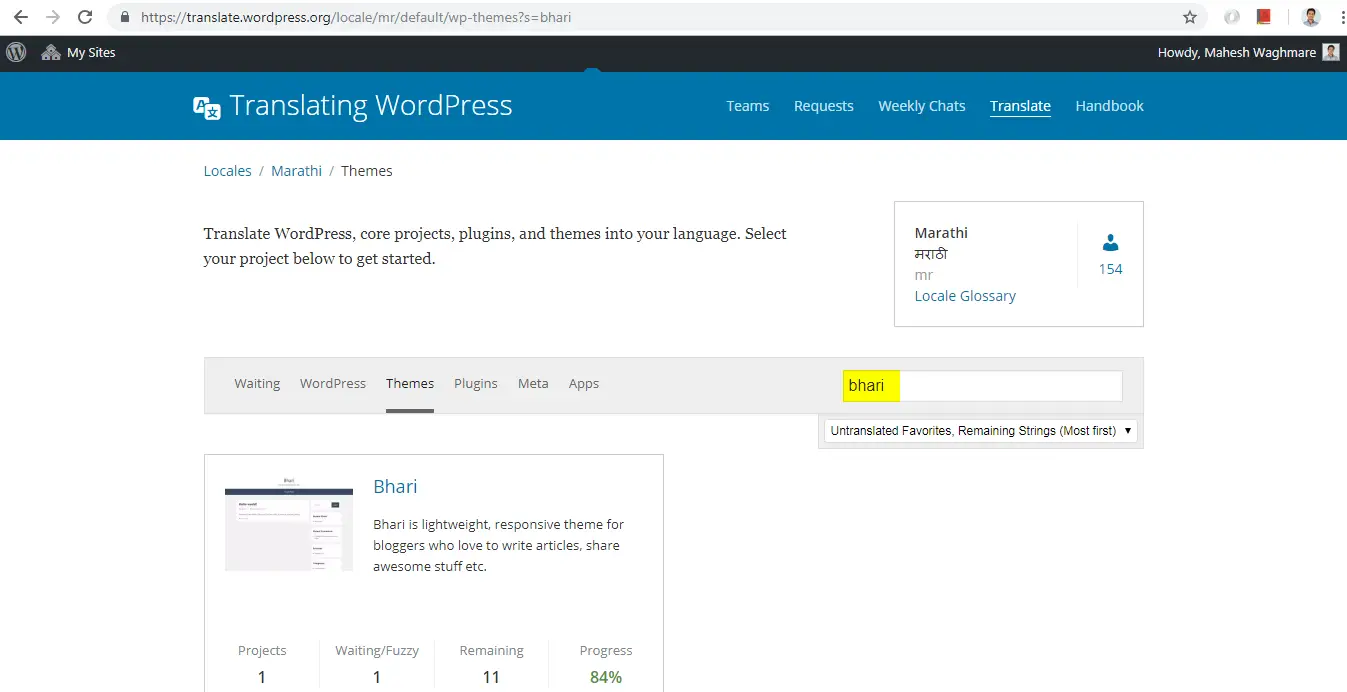 URL: https://translate.wordpress.org/locale/mr/default/wp-themes?s=bhariI'm from Maharashtra, India. My language is Marathi (मराठी). So, I have selected the Marathi language to translate Bhari Theme.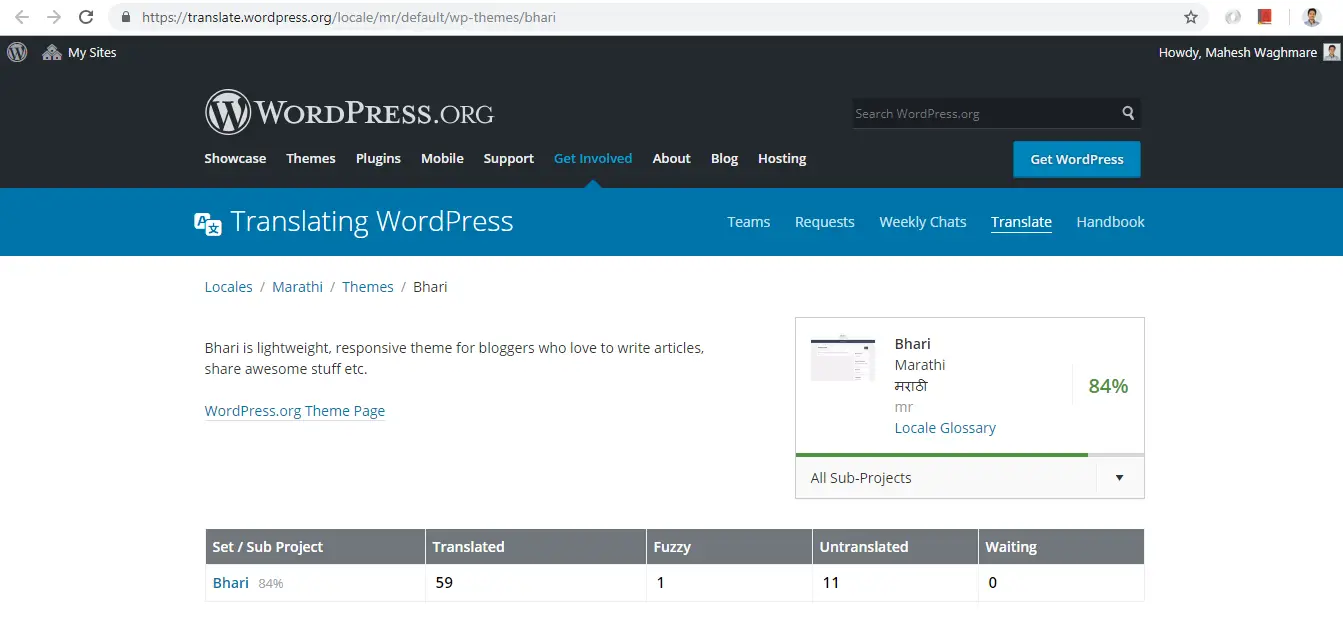 Here is the translation page of Bhari Theme for the Marathi Language.
The translation process of WordPress is very simple.
Please check the quick short video in which I have to translate the string.